VaporVM takes pride in being the single-source provider of end-to-end IT solutions, catering to the business and technology needs of their clients. It provides modern-day IT solutions to enterprise markets through cloud computing, cybersecurity, Business Intelligence, professional/managed IT, application development and NOC/SOC services. The company is headquartered in the United Arab Emirates and has a global presence spanning over 3 continents and 9 countries.
VaporVM is conducting a recruitment drive for students from the BS Computer Science and BSc (Hons) Management Science programmes for the positions of Assistant Product Manager and Junior Data Scientist. The drive will also include information on the Internship opportunities available in the Data Sciences and Cyber Security domain at the company. Don't miss out!
Date: March 24, 2021
Time: 7:00 pm
Venue: via Zoom. 
For the Zoom link, please email Khaqan Ali at khaqan.ali@lums.edu.pk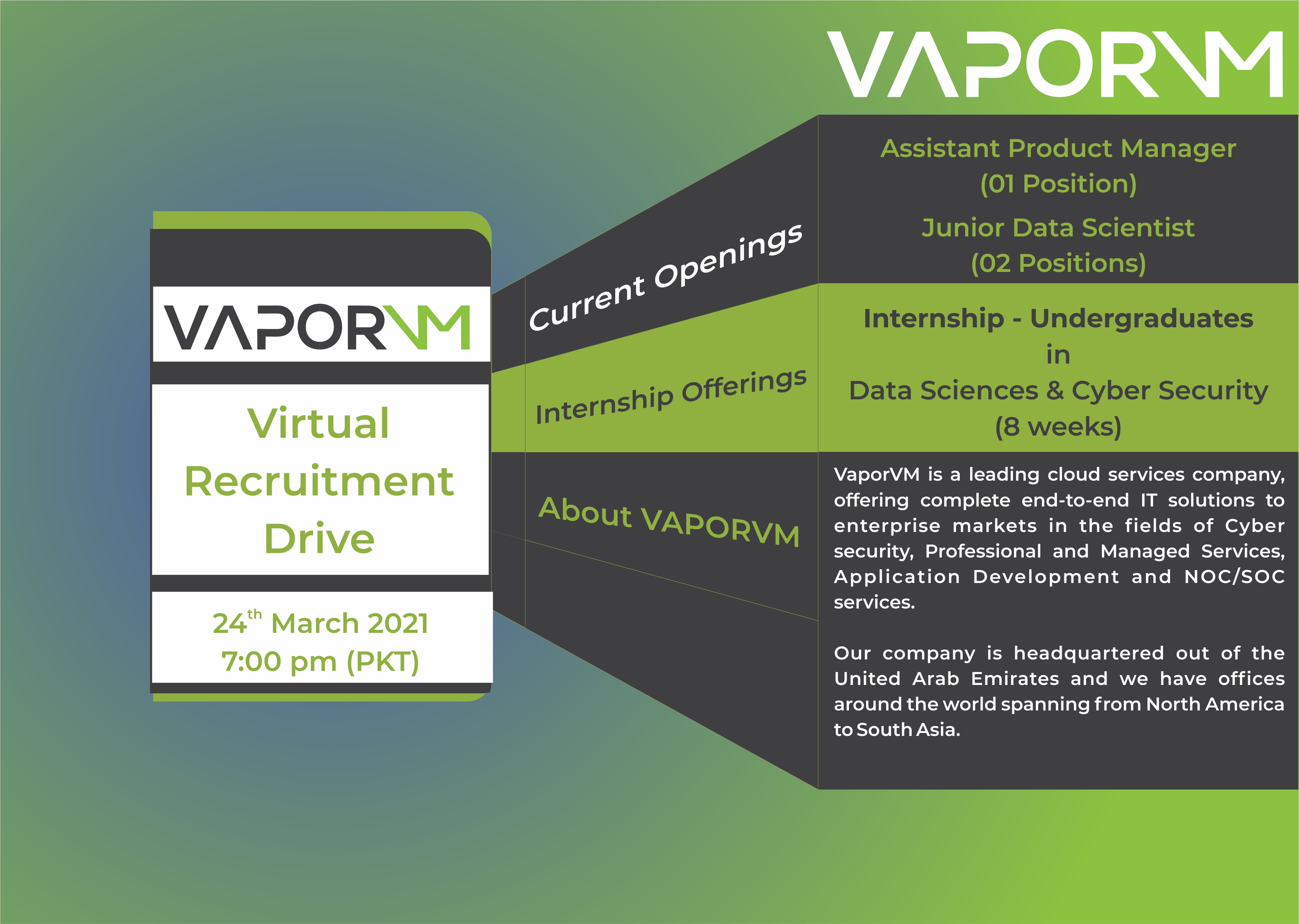 Join the virtual recruitment drive by VaporVM to learn about the exciting opportunities available for you at the company!
Add to Cal
Add to Calendar
2021-03-24 19:00:00
2021-03-24 20:00:00
VaporVM Virtual Recruitment Drive 2021
VaporVM takes pride in being the single-source provider of end-to-end IT solutions, catering to the business and technology needs of their clients. It provides modern-day IT solutions to enterprise markets through cloud computing, cybersecurity, Business Intelligence, professional/managed IT, application development and NOC/SOC services. The company is headquartered in the United Arab Emirates and has a global presence spanning over 3 continents and 9 countries. VaporVM is conducting a recruitment drive for students from the BS Computer Science and BSc (Hons) Management Science programmes for the positions of Assistant Product Manager and Junior Data Scientist. The drive will also include information on the Internship opportunities available in the Data Sciences and Cyber Security domain at the company. Don't miss out! Date: March 24, 2021Time: 7:00 pmVenue: via Zoom.  For the Zoom link, please email Khaqan Ali at khaqan.ali@lums.edu.pk  
LUMS Drupal 8
adil.sarwar@lums.edu.pk
Asia/Karachi
public